The Flourishing Tobacco And Vape Industry Needs Best Custom Packaging Boxes
2019-04-29 16:57:38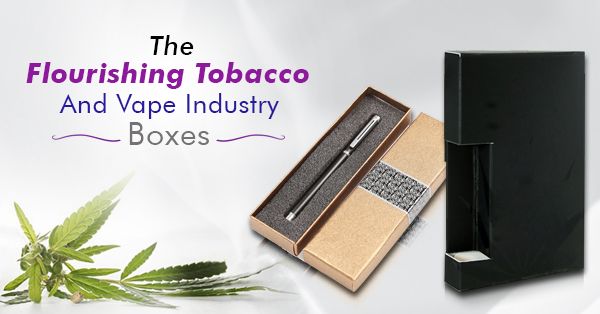 The latest trend these days include smoking, almost all the youngsters from high school onwards have tried smoking at least once in their lives. Most of the chain smokers have taken up smoking permanently after bluffing among friends as fashion which means the attractive nature of the box is very important in order to endorse your brand.
Need for Custom Packaging
It is argued that spending on custom packaging only burdens the budget, decreasing the profit ratio. Custom packaging may increase the budget but it also helps to create a unique identity of your brand which will stand out from all the competitors and helps build clientele.
Different Types Of Boxes:
We at Print My Boxes, have a variety of different types of
custom made boxes
, especially for the vape and tobacco industry. These include:
CBD Vape Oil Cartridge Boxes
E Cigarette Boxes
E-Liquid Boxes
Vape Accessories Boxes
Vape Battery Boxes
Vape Cartridge Boxes
Vape Display Boxes
Vape Gift Boxes
Vape Mods Boxes
Vape Pen Boxes
Cigar Boxes
These are just some of the examples of types of boxes we can produce with respect to the product specifications and requirements. A specially designed box can also be made on special requests because any size, shape, color, and designs can be produced with the help of our experts to meet the specific product requirement as new products can be invented in this field as the tobacco and vape industry still is developing although flourished.
What makes us different?
To set your product apart, different options regarding the finishing of your product or the printing methods used and the add-ons required along with the type and quality of material needed, together with build up unique yet appealing custom boxes. Included in the finishing options include glossy, matte, aqueous and spot UV to magnify the quality of the box as well as the product it will enclose. Die-cut windows, silver/gold foiling, raised ink, embossing or debossing are special techniques used to set apart your product's identity and make it stand out from its competitors. Kraft paper and many other processes and materials are available for those of our customers who prefer eco-friendly products as well as its packaging. Very talented and skilled designers are ready 24/7 to aid in any way possible to satisfy your brand and your product's needs. Call at our helpline, email us or message us at our page to get a fully relaxing and satisfying experience to all your packaging issues.