Small Boxes with Your Lovely Messages
2018-10-15 11:12:43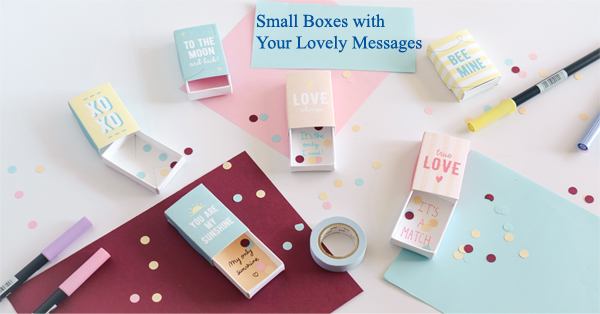 With PrintMyBoxes you can show your love and tenderness to your friends, family, and someone special on any occasion. There are a hundred ways to show it. Now a trend is to send a gift or handover gift with a cute smile and lovely message. We at PMB design your custom boxes with your printed name and a cute message. We can print a surprise message too so you can spread the love with a postcard.
The lucky person who will be receiving the custom small boxes with your message that you want to send him/her. Get ready for a small box.
Required Material
• Different color card
• Manual Puncher (Round)
• Paper Cutt
• Scissors
• Tape
• Double Sided Tape
• Washi Tape

Read more about The Smart Choice in Packaging
First Step
First, cut some color little pieces with scissors or cutter 5.6cm by 3.5.
Second Step
Write your message for the box lid. With regards can get some inspiration what you have written. For example "You are My Life" "You are my Only Hope".
Third Step
With the double tape stick the small card inside the small box.
Fourth Step
Now your imagination rule over on sender's heart. We have made little color strap and circle inside and outside each small box.
Now the time you can spread tenderness and love to your lovers, family, and friends with these custom small boxes.