How window boxes can pull customers towards your product?
2019-01-15 05:11:45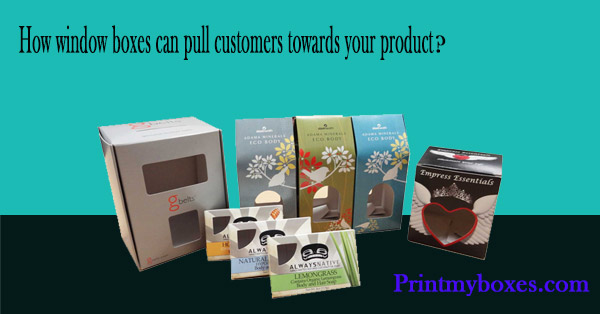 Gain regard for your products among the prospective buyers by gaining stylish designs of custom window boxes for them. Exhibit astounding glance of an item through Brown Bakery Boxes to catch customers' attention. Tempt the consumer to buy your offering by providing a glance at the packed item. Add mesmerizing looks to your tailor-made window boxes by adding bright colors and image. Transparent patch on the window boxes allows the customers to see the size and color of the product without opening the retail packaging boxes.
PVC Window boxes for positive impact on consumer
Avail countless options to make your simple window box colorful and stylish. Get our unmatched services to avail latest finishing options like gold foiling, silver foiling an aqueous coating to add more luxury to your box outlook. Apart from high-quality boxes manufacturer, we are equally good in printing. Our custom window boxes are the best marketing tool for your product which effectively promotes your brand in the market. Special cardboard and Kraft material are used which offer excellent features to keep food, cosmetics or fragile items.
Read more about
High Quality
Window Boxes
Free design assistance for unique boxes
Printmyboxes.com
is the best manufacturer who offers an assurance of shortest turnaround period and timely delivery around the USA. We facilitate your large and small scale business by providing custom made cardboard and Kraft boxes at affordable prices. We also offer free design support and discounts on wholesale orders as well. Our special boxes are recyclable and also made from biodegradable material. We make no compromises on quality and our quality assurance team makes sure that each corrugated packaging box is made according to the requirement.
Get amazing discount offers
Our valued customers avail extra benefits from our services by ordering die cut window boxes in wholesale quantity. We provide them with special discounts and free design supports for their luxury retail boxes. We also offer to die line templates before processing the order and always take approval from our valued clients.