Honoring All Who Served
2018-11-08 16:14:08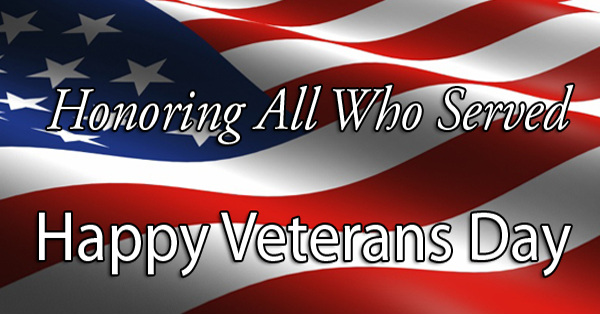 A memorable day for the United States that they can never forget. There are various arrangements to make this day more memorable. November 11 Sunday is the main day of their lives. This day begins with the memory of the martyr. This is a holiday that is called the brave shadow. Those who have offered their lives for their great country. This day is also called the Armistice Day.

I proudly present greetings to all who have served the country and those who sacrificed their lives.

On Veterans Day, Sunday, November 11, many restaurant or store ready to serve on the same day some on other days. If you have a military ID or proof of service you can dine-in and get the exclusive free offers.

Keep yourself updated and read on this topic for the growing list of offers. PMB keep you update until November 11.

Discount & Free Restaurant Offers November 11, 2018

Applebee's: Active military and Veterans receive a free meal on selected items, on November 11.

Back Yard Burgers: Free Burger for Veterans and service members, Veterans also get a free BYC Burger.

Bar Louie (BL): On VD November 11, the BLD House is offering veterans a free ENTRÉE for VETERANS DAY. Prove your service to receive your free entrée Dine-in only.

Biscuit Ville: Veterans and men on duty with their active duty, able to receive absolutely get free biscuit of their choice only on Sunday, November 11. ID and service proof required. Only Valid for 11 November.

Bonefish Grill: Band Bang Shrimp appetizer is free for Veterans and on duty active Service with valid ID proof.

Boston Market (BM): In honor of the Veterans families BM offering a BOGO Deal, Buy one meal with drink and get one free. This offer valid on November 11, 2018.

Carrabba's: Come and get a free appetizer for those who have a valid ID for their service or retired military proof.

City Barbecue: For Veterans, we offer complimentary Slice, double fudge chocolate, coca cola cake or coffee valid for November 11, 2018.

Dunkin Donuts: Dunkin' restaurants offer nationwide for veterans and active militants able to get a free donut of their choice with no purchase.