How can you improve business sales with cardboard display boxes?
2019-05-03 22:59:06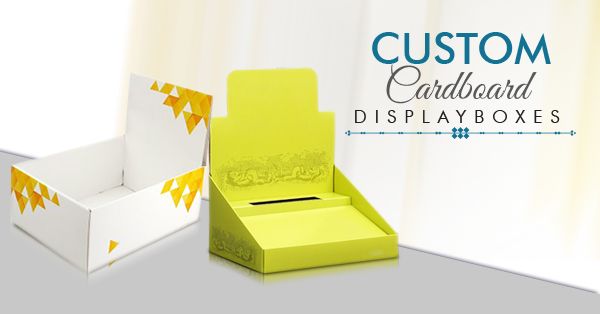 Cardboard display boxes and countertop display boxes are two hot products of a packaging company to help in enhancing the sales of the business. Countertop displays which are also known by the name of pop displays and cardboard display stand for product and retail marketing. These displays display an aesthetic nature to attract customers. Ideally, point of sale (POS) is the point where the floor displays are placed with attractive designs to lure customers to where their product is placed by showing special discounts or promotions or special offers whereas countertop displays are near the billing counters for instant gratifications.
Pointers to keep in mind designing Cardboard Display Boxes!
When designing for these
cardboard display boxes
often company owners neglect minor details that have a major effect on the overall revenue generated in a positive way. These displays should be innovative because something that appeals the eye will enforce the brain to look into it, this gives greater marketing edge over competitors. The colors, shapes, designs, and graphics should be such that will attract all age groups of both genders due to which passer byes are tempted beyond control. How and what is written on the displays are of utmost importance because the prospective buyer has not seen the product but only has read about it on the counter display, therefore, a thrill to enquire more about the product seems inevitable for them especially when discounts and special offers are mentioned in bold. One thing that leaves a bad impact on the customers is misleading information as the prospective buyer expects to receive as mentioned otherwise a negative image of the brand can be imprinted onto the minds. These displays and the product being marketed can be packaged in the same themes or color combinations leave a lasting impact. Last but not least, these displays should be placed such that they don't come into their way but should be visually active from a distance.
Special services for special customers!
Print My Boxes
is a packaging company that deals with all sorts of packaging problems. To us, the satisfaction of our clientele is the main concern for which we are willing to go out of line as well. Our services are available all the time for all those in need of help for their packaging or marketing concerns. Our state of the art machinery combined with customized designs by our experts give life to extraordinary displays to set your company apart from all the rest. We even have bio-degradable materials for those of our conscious customers that support the plastic free environment. Give us a chance to and we will not leave you disappointed.
Related Products:
Custom Cardboard Boxes
Custom Kraft Boxes
Custom Corrugated Boxes